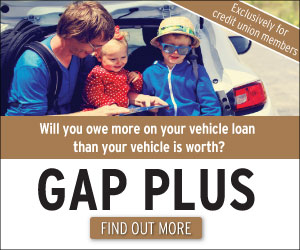 Guaranteed Asset Protection (GAP) PLUS
GAP Plus may reduce or eliminate the gap between what your vehicle insurance will pay and what you owe on your loan if your vehicle is deemed a total loss.
While auto insurance covers the replacement value of the vehicle, members are still liable for the difference between the insurance settlement and their remaining loan balance- which could amount to thousands of dollars.
With vehicle depreciation, loan terms extending, and the cost of repairs raising, chances that a "gap" will occur, between the remaining loan balance and insurance settlement, is greater than ever.
A wrecked vehicle can wreck your finances if you owe more on your loan than your insurance will pay!
Talk to our loan officers about GAP PLUS next time you apply for an auto loan!