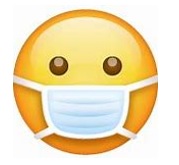 An Update About COVID-19
January 19, 2021
As of January 19, 2021, our offices and lobby are back open to you! Grand Trunk (BC) EFCU continues to take several precautions at our location, with additional cleaning of the surfaces to help with our part in the control of the spread of COVID-19. The safety and wellbeing to our members and staff continue to be a top priority. Please continue to wear a mask or face covering before entering the building. Grand Trunk (BC) EFCU wants its members to know we will continue to closely monitor any updates from the spread of COVID-19 and will update the members as conditions change.
We also want to make sure you are aware of the services that are available to you without coming into the credit union.  Online banking and our mobile app are great ways to stay connected to your account.  You can check your balance, make transfers, pay bills with our online bill pay, and through your mobile app you can control your Atm or Debit Cards through Manage Cards.  Make sure to check out Apple Pay that launched at the beginning of the month too! If you haven't signed up yet or downloaded our mobile app, now is the time to do so. Call the credit union for access and get started today at (269) 965-1381.
November 17, 2020
As the COVID-19 cases continue to increase at an alarming rate, YOUR credit union will be following along with MDHHS recommended guidelines to do our part to protect our community and slow the spread.
Starting on November 18, 2020, we will be servicing our members by drive-thru only. Our business hours will remain the same. Our lobby will be accessible by appointments only for in-depth needs. Please give us a call at 1-800-524-2402 or 269-965-1381 to schedule an appointment when needed.
We encourage our members to take advantage of our wide range of electronic services we offer. We are offering e-signing services for loans and many other documents. We are happy to discuss these services further with you and assist you over the phone.
Online banking
GT (BC) EFCU Mobile App
CU Easy Pay (Bill Pay)
P2P (Pay Anyone) Transfers
E-statements
Online Loan and VISA Applications
Manage Debit/VISA Cards
CU*Talk
Night Drop Depository
ATM/Debit Cards
Skip-A-Pay Program
Grand Trunk (BC) Employees Federal Credit Union is financially sound and want you to take confidence that your deposits are safe. Deposits up to $250,000.00 are insured by the NCUA.